Sergey Chemezov, the Head of the russian Rostec state arms corporation, announced that in 2023, the russian defense industry increased tank production sevenfold, according to news media, controlled by the russian government.
Based on these claims, russian military "expert" Viktor Murakhovsky calculated that the country's defense industry supplied the russian army with a staggering 2,100 tanks of various types in 2023, ranging from T-54/55 and T-62 to the latest T-90M Proryv.
Read more: russian Troops are Actively Preparing to Advance on the Eastern Front, Constantly Conducting Assault Actions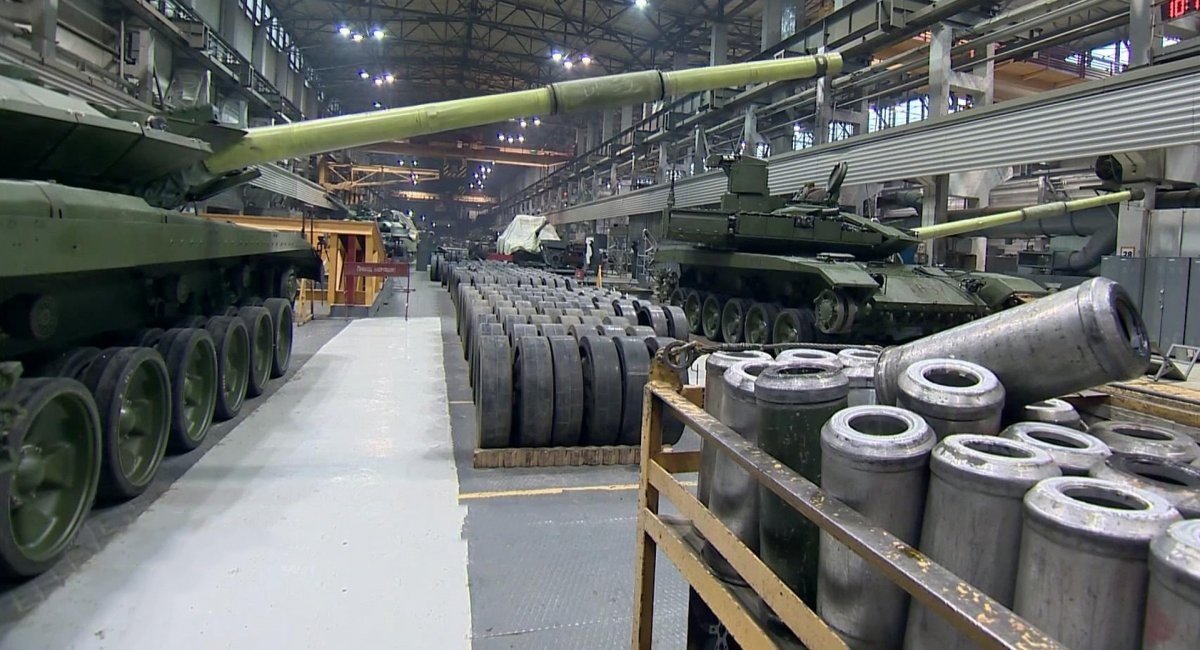 The leap in rates of production comes unexpected, since the earlier open data suggested that russians could make only about 200 new tanks per year, namely those of the T-90M Proryv type.
A closer look at the data provided by Murakhovsky reveals the following:
the russian army received 210 new tanks in 2023, compared to only 30 units in 2020;
the number of T-72B3s delivered to the russian army in 2023 is 840 vehicles, compared to 120 units in 2020;
also, the "taken from storage" category amounts to 840 vehicles, including T-80, T-72, T-62, and T-55/54 tank types.
However, when cross-referencing these calculations with other sources, a different picture emerges. The Swedish research institute FOI, in its report on the military potential of russia after 1.5 years of war against Ukraine, estimates a much smaller annual tank production of around 520 new vehicles per year:
62 tanks, type T-90M Proryv, and 62 more of types T-90/T-90A;
80 tanks, type T-80BVM;
140 tanks, type T-72B3, and 140 more of T-72B3M modification.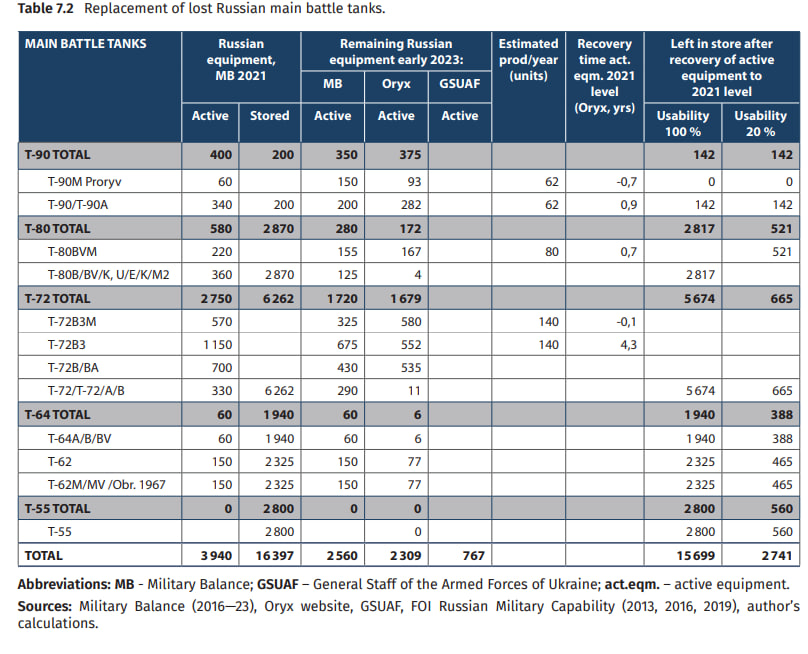 Worth noting, those are the most "pessimistic" estimates taking into account that there might be up to 2,000 tanks of type T-64 in various modifications, and up to 2,800 tanks of T-55/54 types.
Another factor that the FOI report considers is that by February 2024, the russian army could still have at least 2.5 to 3 thousand tanks in service, even considering current losses in Ukraine.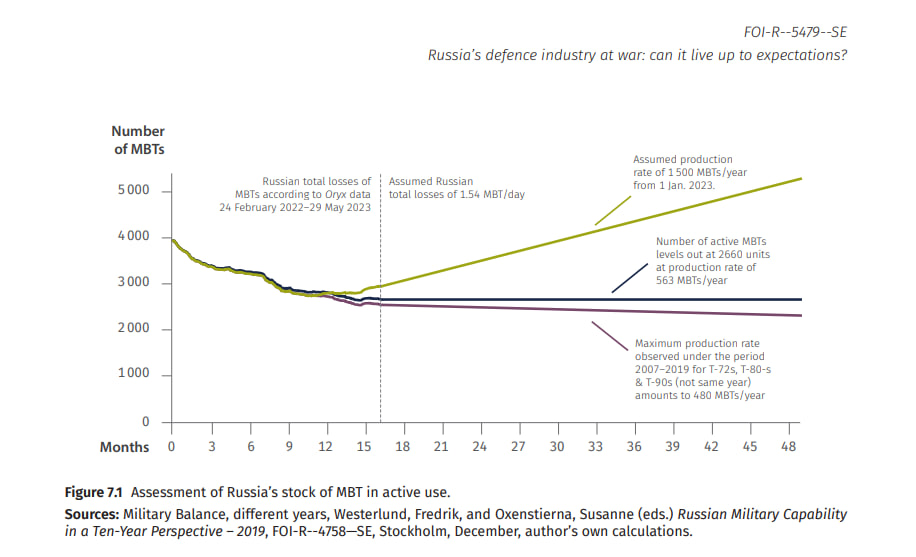 The conclusion here is that the figure of 2,100 tanks claimed by Chemezov and Murakhovsky may include literally all of the tanks, even those taken out of storage and minimally refurbished at armor repair plants.
This could potentially explain the perceived "inefficiency" which is evident in the actions of the russian invasion forces in terms of equipment losses they suffer in repeated assaults on Ukrainian positions. The russian military leadership might believe they have an unlimited supply of tanks in storage and can easily replace any losses.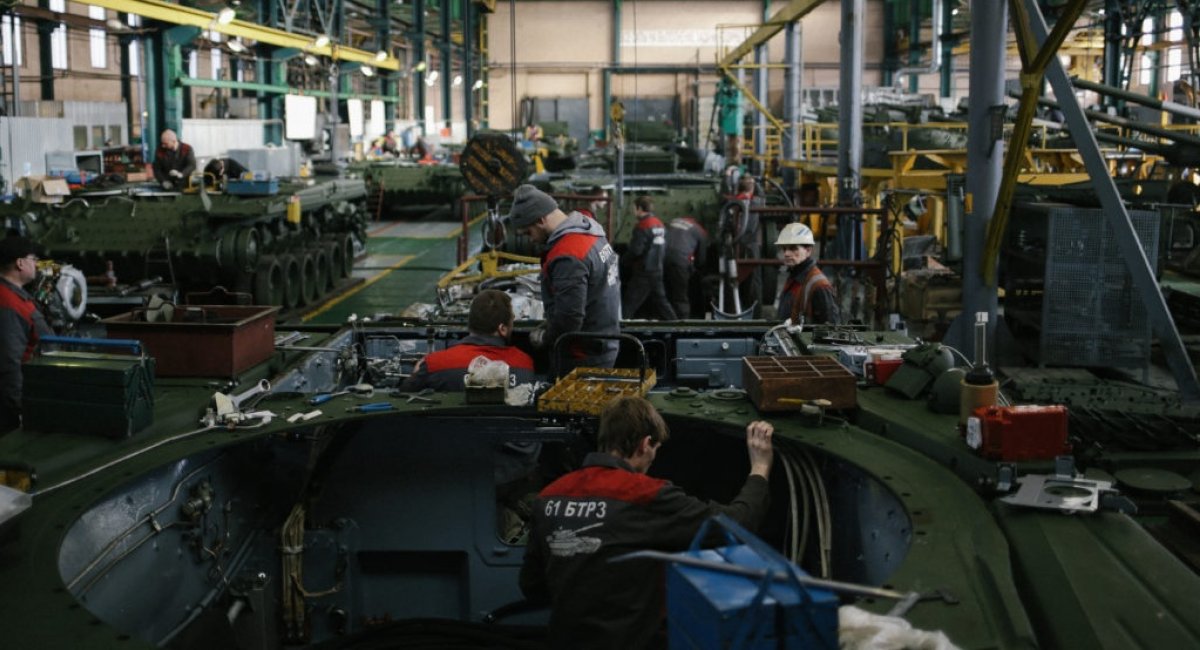 Read more: Footage From Ukraine Shows the Scale of russian Losses in Assaults on Vuhledar, Tanks and BMPs Destroyed (Video)
---
---