OSINT analyst MT Anderson posted on his Twitter account a satellite image as of January 19, 2023, on which you can see all 5 Kalibr cruise missile carriers of the Caspian Fleet of the russian Navy at once.
At first glance, there's nothing "extraordinary" in this photo: three project 21631 Buyan-M class corvettes and two project 11661 patrol ships are just standing near their moorings in the city of Kaspiysk. But actually it's the first news since May 2022 about the ships in the Caspian Sea, which russians also applied for in war against Ukraine. That's why this satellite image grabs attention.
Read more: ​Poland to Give Leopard Tanks to Ukraine Without Germany's Consent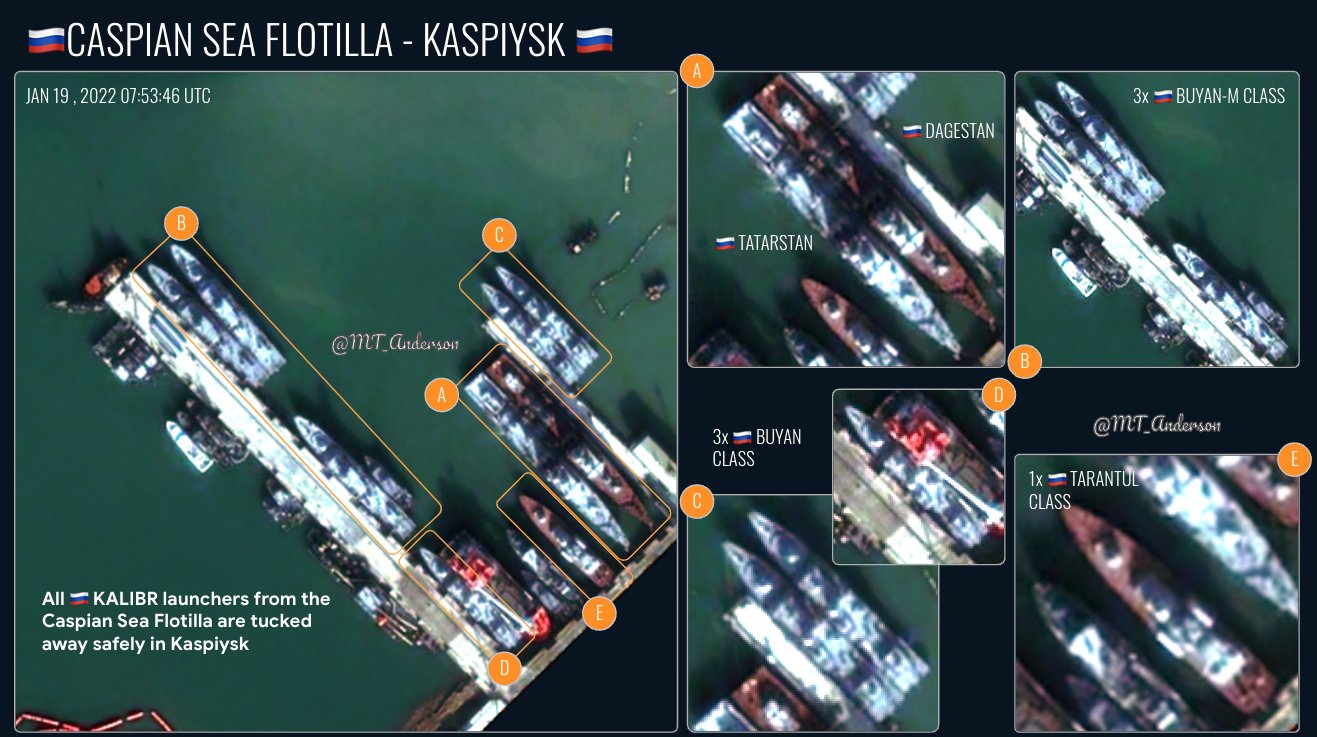 The first mention of russians shelling Ukraine with Kalibrs from the Caspian Sea was at the end of February 2022, in one of the reports of the General Staff of the Armed Forces of Ukraine. And until the beginning of May last year, there were also cases when russians applied ships of the Caspian fleet for missile strikes on Ukraine.
However, at the end of May 2022, the Main Directorate of Intelligense of the Ministry of Defense of Ukraine reported that russian fleet in the Caspian Sea lost its combat capability: blocks of important equipment failed due to "import substitution". Since then, there has been no news about Kalibr launchers in the Caspian Sea, which has turned into a "testing ground" for launching Kh-101 and Kh-555 missiles from russia's strategic bombers.
Read more: Ukrainian Army Will Get an Entire Brigade of 40 T-72 Tanks, Up to 100 BMP-1 Vehicles From Poland
---
---