Roboneers, one of three businesses of parent company Global Dynamics, is now focused on developing ground robotic platforms and related technologies. The firm, which employs some 20 full-time staff, has its headquarters in Lviv and offices in Kyiv and other cities.
There are two unmanned ground vehicles (UGVs) currently under development. One is an armed UGV and the other is a load-carrying UGV. The former features a remote weapon station (RWS) 'Shablya' (Ukrainian for 'saber') armed with a 7.62-mm machine gun, but in future configurations this can be replaced with a 12.7-mm machine gun or an automatic grenade launcher. Additional payloads being developed for this application include special-mission equipment, armaments and communication systems.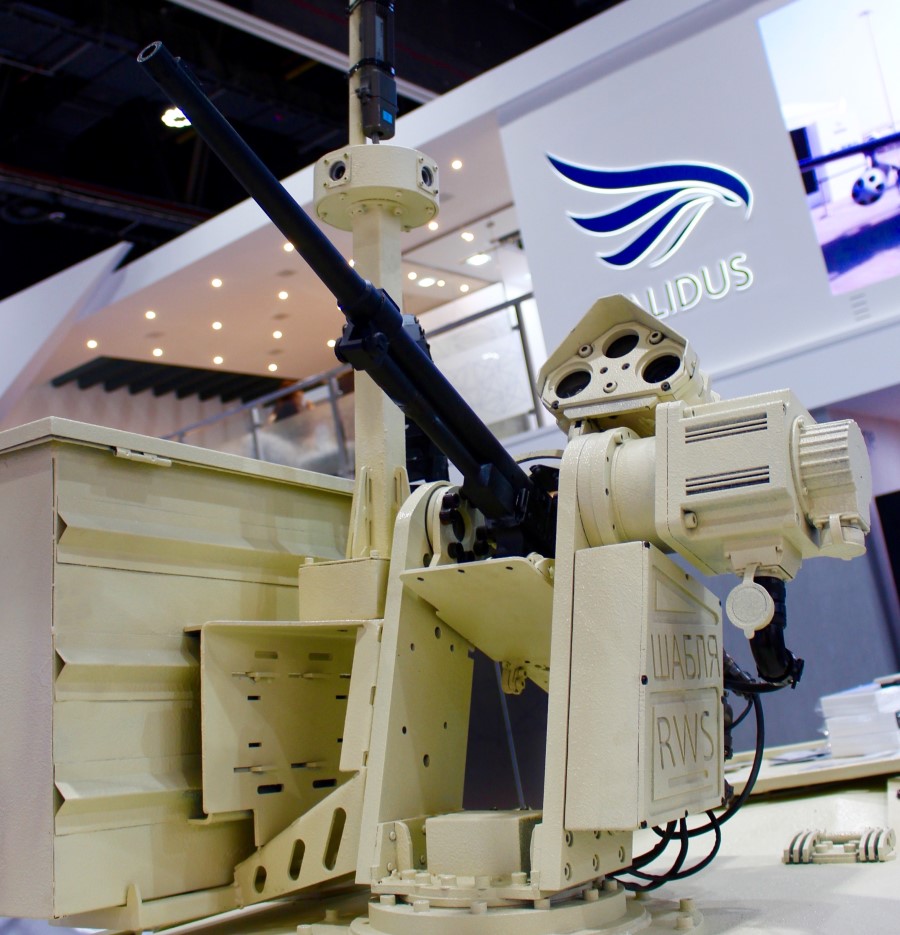 Being smaller in size than its combat-capable sibling, the load-carrying UGV would be able to carry up to 600-kg loads on its roof-mounted cargo racks.
The two robotic platforms incorporate innovative technology solutions ensuring improved traction on ground when travelling over rugged terrains. Each is made to two articulated modules linked together by a turning joint technology adopted from Caterpillar, allowing all four wheels to always keep contact with the ground. Each wheel is moved by an electric motor with epitrochoid harmonic drive ensuring a high torque. In one test drive mission, the vehicle was able to drive its front wheels up onto a concrete wall with rear wheels remaining on ground.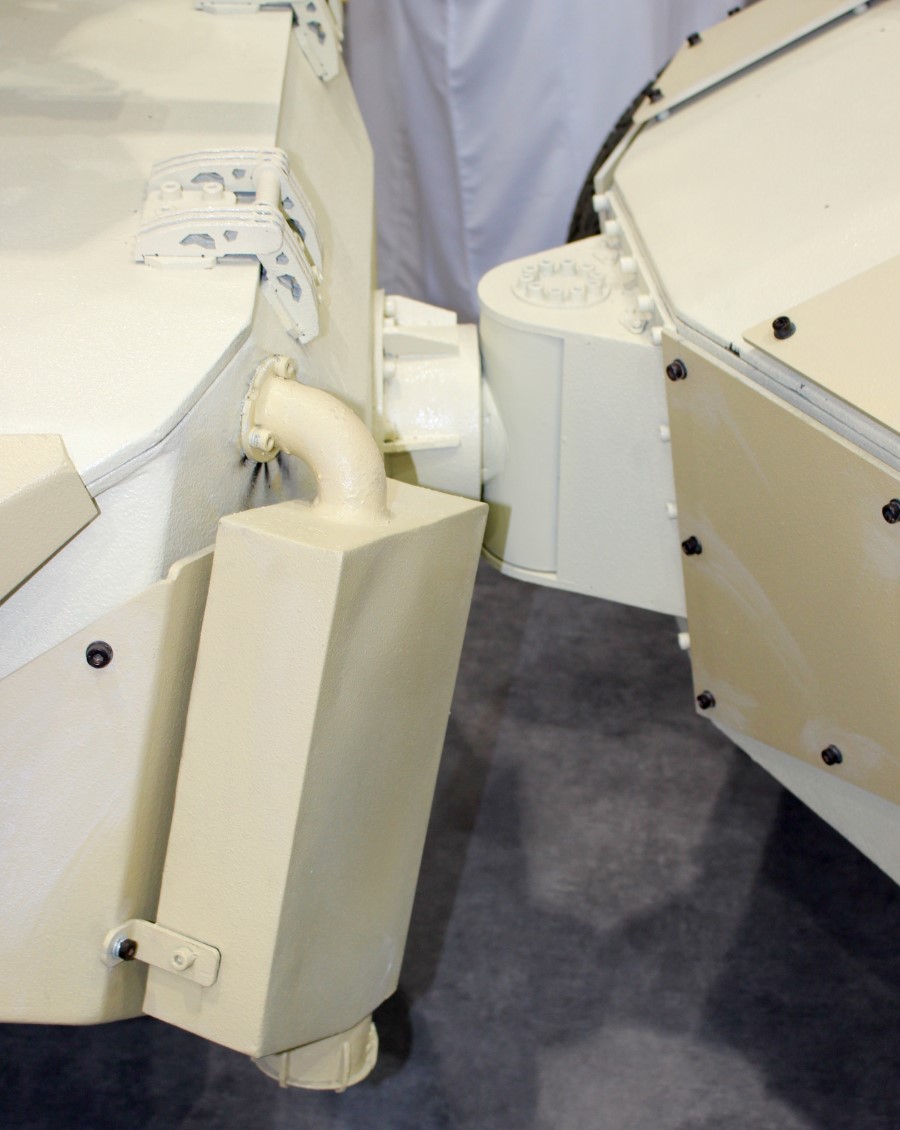 The UGV platforms have been both designed without suspension, the function of which has been adopted by the turning joint, and they are made with minimum moving parts courtesy of the modular architecture used. Roboneers is now working to increase the modularity level to enable 'Lego-style' assembly of multiple subsystems and thus allow easy swapping in and out.
The running gear has been designed such as to enable effective operation on difficult terrains. The front module hosts a 15 kW diesel generator while Lithium-ion batteries are located at the rear, this hybrid configuration allowing up to 80-10 hrs operation, electric-only endurance being 1 h. Diesel engine is used when the vehicle leaves its base, and it is taken over by battery powered propulsion (albeit complemented with diesel power if needed) where silent driving is needed for stealthy movement. Each wheel is powered by its own geared motor.
A ground robotic vehicle needs to be able to operate in a variety of environments, be it an urban area, forest or desert, and it also needs to be able to be controlled remotely from distances of at least 2 km. But remote control over a distance that long is only possible in open terrain. So it was decided that remote control via a relay drone would be a suitable solution, which would allow more robust transmissions and enable the range of remote control to be extended to up to 5 km. The software package Roboneers developed for this drone application enables GPS-free navigation and uplink/downlink communication with operators on the ground. The relay drone would be carried by and launched from the robotic platform itself.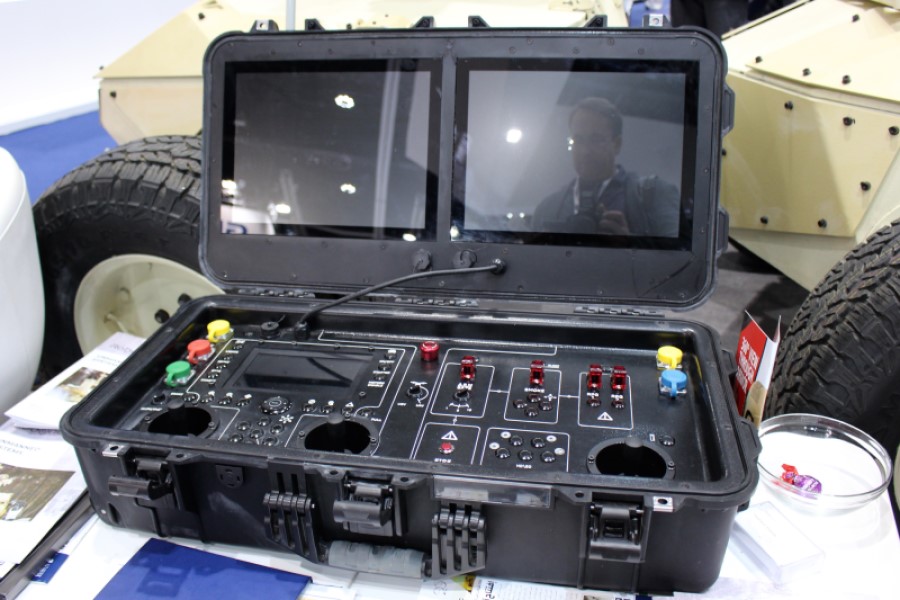 UGV control and data communication links, software package, transmissions security against electronic attacks – these challenges have all been handled by Roboneers in a systemic manner, effectively and efficiently, and at a high level of quality. "The robotic platform should be able not simply to get to the battlefield and launch fire against the adversary, but also to be aware of what the situation is, what aerial intelligence and observation says, where adversary forces are located etc. These challenges cannot be handled without appropriate software tools – a key component of robotic technologies that is going to become most important in five years or so. How cameras recognize and identify targets, how Friend-or-Foe works, target identification techniques, target movement tracking, coordination and collaboration with friendly entities on the battlefield, machine learning – these should be the priorities to be developed", says Maksym Ryabokon, Roboneer business manager.
The armed UGV and load-carrying UGV platforms have both undergone trials with the Ukrainian Army and are now being further matured for fielding.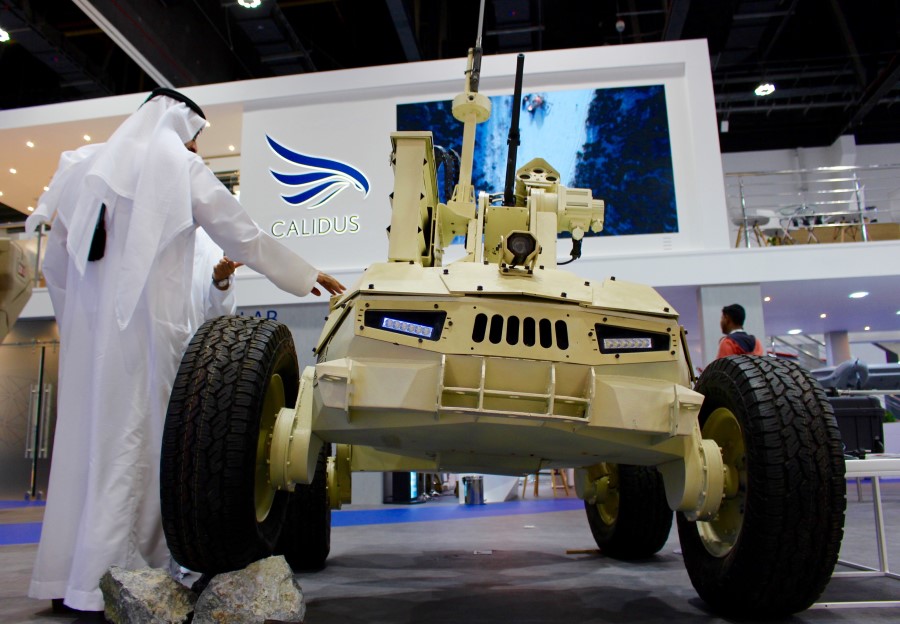 Fahd UGV is an armed unmanned ground vehicle (UGV), which is designed for missions such as reconnaissance, observation and target acquisition (RSTA) as well as to provide fire support and protection to forward deployed forces. The vehicle is able to operate in locations that are remote, unreachable by route, exposed to extreme hazards or challenging in other ways.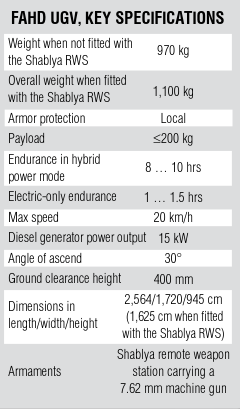 The Fahd is simple in design and operation. Each wheel is moved by an electric motor featuring epitrochoid harmonic drive technology. The company claims this arrangement offers robust torque transmission for improved traction on rough terrain. The vehicle is controlled remotely via a relay drone, which allows the range of remote control to be extended to up to 5 km. It features a modular architecture allowing multiple subsystems to be easily swapped in and out as needed.
The vehicle's steel hull is protected with add-on armor that makes it immune to 7.62 mm rounds. It features the indigenous remote weapon station (RWS) 'Shablya' (Ukrainian for 'saber') armed with a 7.62 mm machine gun, and this can be adapted for installation of a 12.7 mm machine gun, or an automatic grenade launcher, or an anti-tank rocket launcher. The company is considering also special mission configurations equipped with a radar system, or a system for the detection, disruption and pre-detonation of explosive hazards, or a handling device, or other specialty payloads.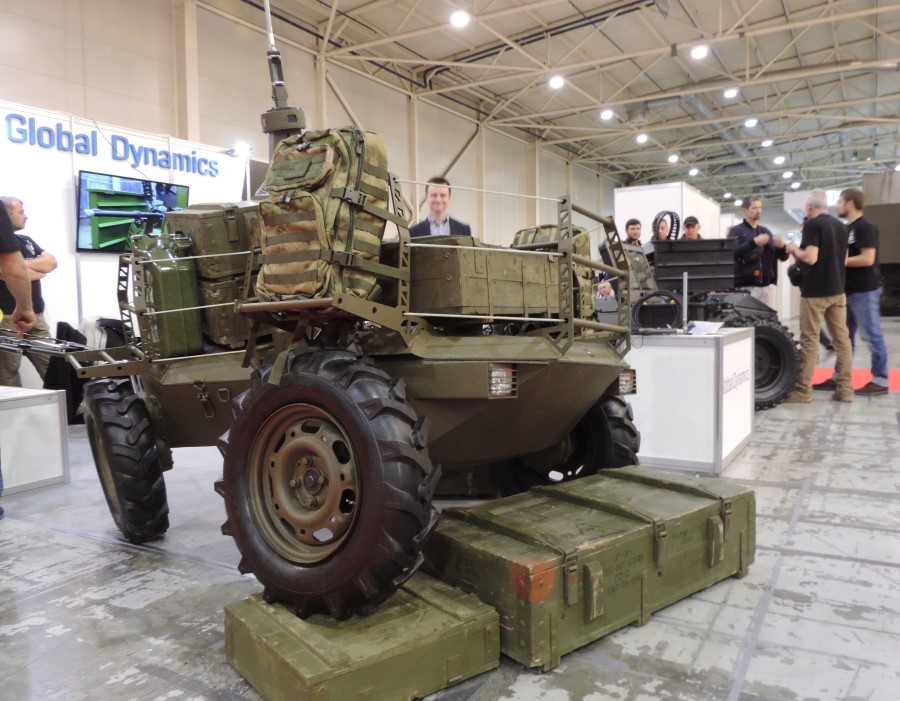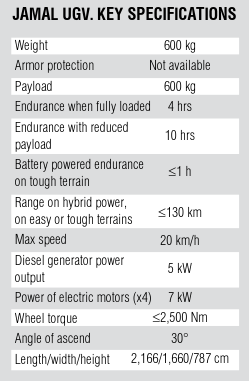 The Jamal is a load-carrying UGV that is designed to perform logistical support and evacuation missions in locations exposed to extreme hazards. Due to being equipped with a hybrid transmission, the vehicle can operate autonomously during several weeks, gathering video and other sensor data for subsequent analysis and processing. Independently moving wheels and a flexible frame chassis ensure improved mobility performance on rough terrain and steep slopes.
The Jamal UGV can be interfaced with C4ISR networks and unmanned aircraft, and it is also suitable to be used as UAV carrier and launch platform. Future upgrades being considered for the Jamal include the addition of a wireless charging device for UAV batteries and the range of remote control and observation extended to up to 30 km.
Read more: Vladyslav Belbas: "We are currently more than just a manufacturer of armored vehicles"
---
---