A supposed cruise missile attack took place on the night of September 13th in Sevastopol, on the territory of the russian-occupied Crimea. Two ships stationed at the Sevmorzavod shipbuilding plant were hit by this strike, an intelligence official told Suspilne TV channel.
According to Andrii Yusov from the Defence Intelligence of Ukraine, the attack resulted in damage to a russian dock landing ship and a submarine, as well as the equipment of the shipyard.
Read more: ​Kyrylo Budanov: the Liberation of Crimea Is Not Far Away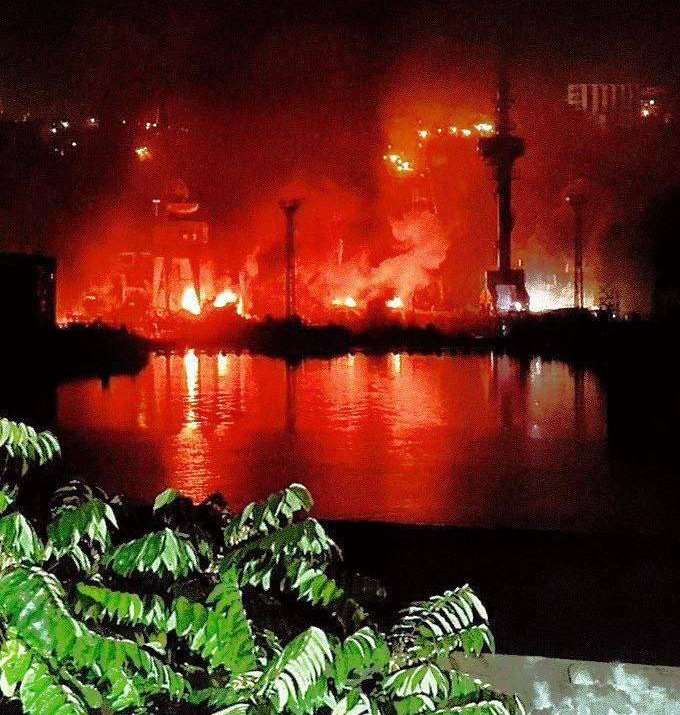 The russian ministry of defense earlier admitted that the two vessels received damage in a missile strike overnight and added that seven out of ten Ukrainian missiles were shot down by air defense. In the meantime, the videos from Sevastopol show not as much air defense activity at the time the missiles reach the target:
The russian media also provide the names of the vessels: the Minsk landing ship, dock (LSD), and the Rostov-Na-Donu improved Kilo-class submarine (Project 636.3), both ships were in a dry dock. During the attack, 24 personnel were injured.
The photos from the site show that the attack caused a massive fire outbreak which means both the LSD and submarine should be damaged to the point they cannot operate completely.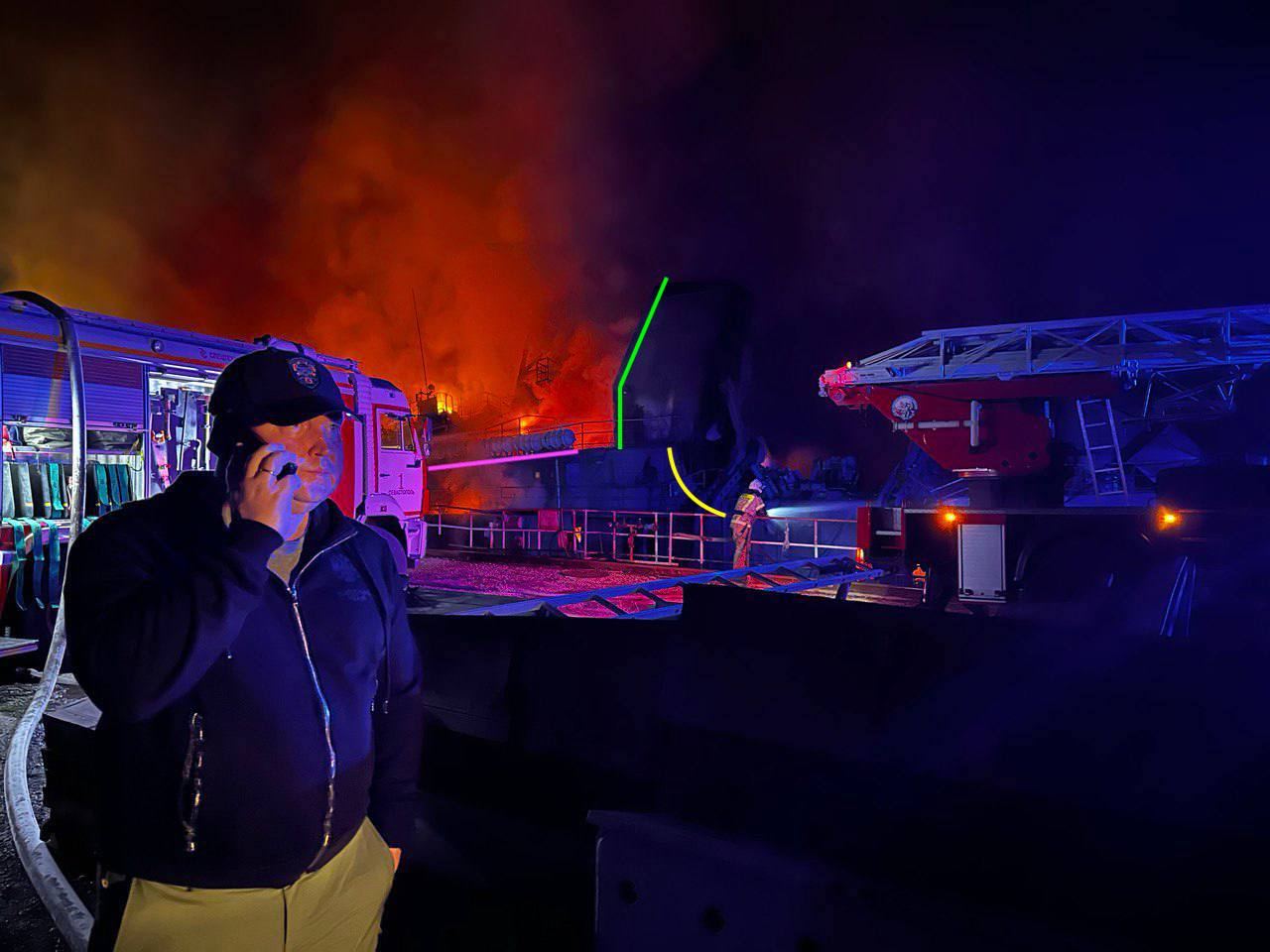 Also, recent satellite photos testify that indeed, the ships were in dry docks. Damage to these facilities is a significant blow to russia's capability to maintain and repair ships in Sevastopol, the major base of the russian navy Black Sea Fleet.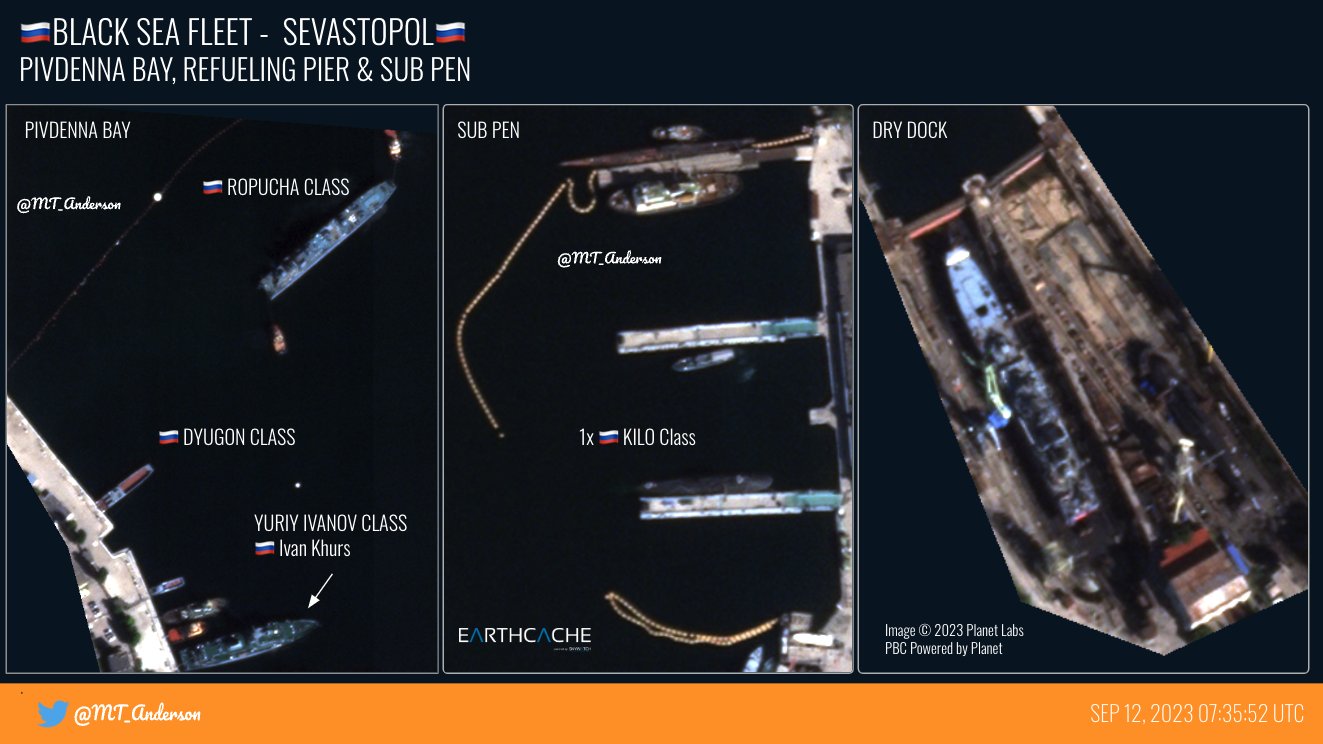 Weapons of Attack
In a brief notice, the Ukrainian Air Force Commander Mykola Oleshchuk thanked the pilots of the Air Force for a "splendid job" while mentioning the explosions in Crimea.
Therefore, we can already rule out the possibility involving the Neptun anti-ship missile allegedly remade into a medium-range land attack weapon, although it had previously shown it could reach Crimea, when a russian S-400 air defense system was destroyed.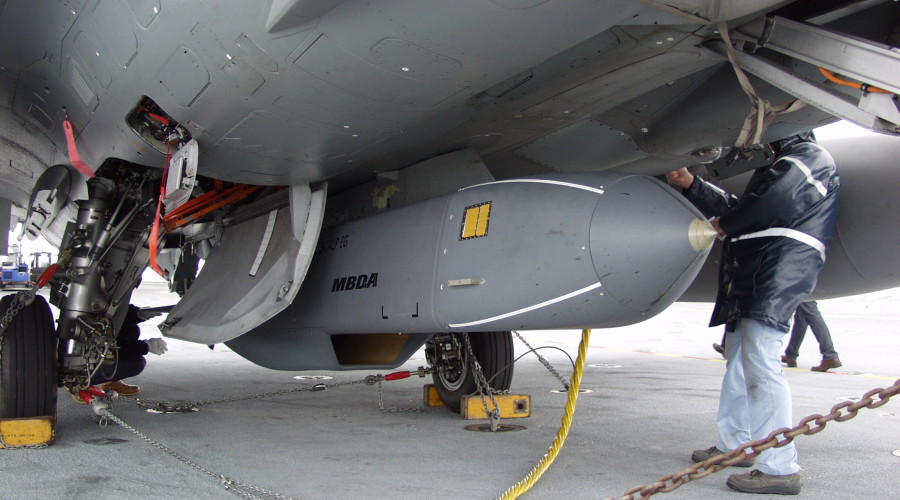 The fact aviation was used and russian claims of cruise missiles used for the attack point to the Storm Shadow/SCALP air-launched LACMs. A range of 300 km is enough to fire the missiles from a standoff distance, safe from russian air defenses.
Provided that these missiles were launched together with ADM-160B MALD decoys averting the attention from the real weapons, this explains why the russians declare they took down seven out of ten missiles. Defense Express explained in an earlier article, how MALD and anti-radar missiles improve the effectiveness of strikes by Storm Shadow.
However, the scenarios where Ukrainian pilots use some other kind of missiles are viable, too. Maybe, a Neptun missile adjusted for a midair launch or a weapon that was supplied to Ukraine by partners without public announcement. Either way, the weapons used for this strike have proven to be able to get through russian multi-layered air defense in Crimea.
Read more: What are the Missiles With Cluster Warheads the US Can Send to Ukraine
---
---