The relevant statements was made by Ukrainian President Volodymyr Zelensky at the NATO Summit in Madrid, Ukrinform reports.
"Ukraine needs modern missile and air defense – and you have these systems. By providing them to us, you can completely break Russia's tactics to destroy cities and terrorize the civilian population of Ukraine. This is a fundamental thing. The distance from Kyiv to Madrid is less than the range of the missiles used against us today. Can one state respond to such a threat without the help of partners? You can provide this help. And we are grateful for the help you have already given," the President of Ukraine stressed.
Read more: Sweden and Finland Will Become NATO members - Turkey Do Not Mind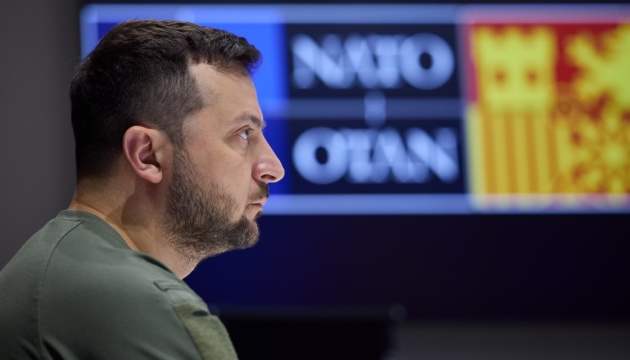 In his words, Russia relies primarily on artillery on the battlefield. It is necessary to break the Russian artillery advantage to prevent the war from dragging on, and Ukraine needs much more such modern systems, modern artillery for this purpose.
According to Zelensky, financial support for Ukraine is no less important than aid with weapons. Now the country needs about $5 billion a month, and that's a fundamental thing as well.
"And we need a new understanding of NATO's eastern flank. It is possible to get rid of the 'gray zone' and guarantee security only together with Ukraine. Just think about one fact now: today, a non-NATO country, albeit with your support, has been holding back a state that you all officially identify as your main threat for more than four months. We are deterring Russia from destroying us and from destroying you," Zelensky noted.
A reminder that the NATO summit is taking place in Madrid on June 28-30, 2022. The Heads of State and Government are considering the ways to strengthen deterrence and defense policies and to develop the Alliance's defense capabilities in the new security situation that has emerged with Russia's unprovoked invasion of Ukraine.
As Defense Express reported, in an interview with the American NBC TV channel, President of Ukraine Volodymyr Zelensky spoke about the ratio of losses of the Armed Forces of Ukraine and the russian occupation army.
Read more: 126 Days of the War: Russian Casualties in Ukraine
---
---