series of explosions occurred at the military airfield of the Russian Armed Forces in the temporarily occupied Crimea - a number of reports with photos and videos of explosions at a russian military facility located near the village of Novofedorovka appeared on social networks and russian mass media.
Read more: Russia Radically Changed the Location of Forces In Ukraine. How Many russia's Battalion Tactical Groups In the Kherson Direction Now
Currently, it is known that the first explosion was heard around 3:00 p.m. local time. At the same time, as of 4:31 p.m., more than 15 explosions have been reported. At the same time, it is noted that the first-class military airfield, where the NITKA Ground Testing Simulator Shipborne Aviation is located, was hit.
The video below shows a powerful explosion at the airfield of the russian Aerospace Forces
In addition, the locals report that approximately every minute they hear sounds similar to the detonation of ammunition, and they also talk about a large number of ambulances heading to Novofedorivka - the so-called "head" of the temporarily occupied Crimea Serhiy Aksyonov is also supposed to arrive there.
The most interesting thing in this news is that the affected object is located at a distance of at least 230 km from the place from which, in theory, the airfield could have been struck by the Armed Forces of Ukraine. At the same time, as of today, there have been no official reports of the transfer by the partners to the Ukrainian military of weapons that could strike at such a distance.
UPD 4:49 p.m.: satellite images of equipment that the occupiers placed at the affected airfield are posted online.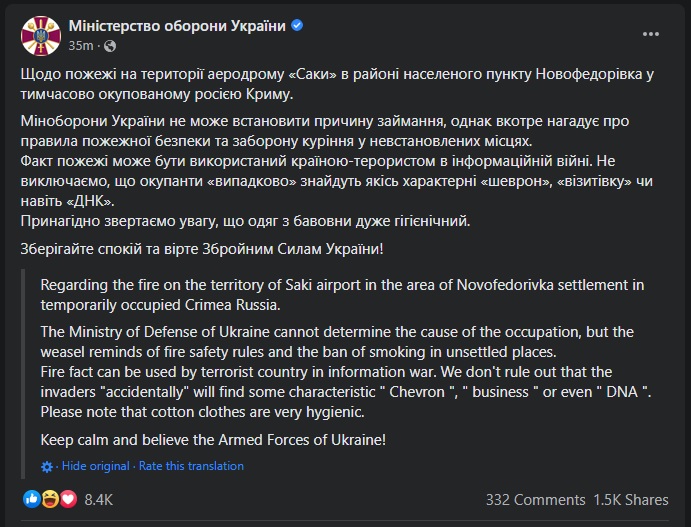 UPD 9:10 p.m.: The New York Times reports that Ukrainian military official with knowledge of the situation said that Ukrainian forces were behind the blast at the Saki Air Base on the western coast of Crimea.
"This was an air base from which planes regularly took off for attacks against our forces in the southern theater," the official said, speaking on the condition of anonymity to discuss sensitive military matters. The official would not disclose the type of weapon used in the attack, saying only that "a device exclusively of Ukrainian manufacture was used," the report reads.
The senior Ukrainian official said the attack involved partisan resistance forces loyal to the government in Kyiv, but he would not disclose whether those forces carried out the attack or assisted regular Ukrainian military units in targeting the base, as has sometimes occurred in other Russian-occupied territories.
UPD 11:00 p.m.: In his nightly address, Ukraine's president, Volodymyr Zelenskiy, did not discuss who was behind the attacks but vowed to "liberate" Crimea, saying: "This Russian war against Ukraine and against the entire free Europe began with Crimea and must end with Crimea – with its liberation."
The feed is being updated
Read more: Russians Have Not Managed Achieve Any Significant Military Success in Donbas
---
---